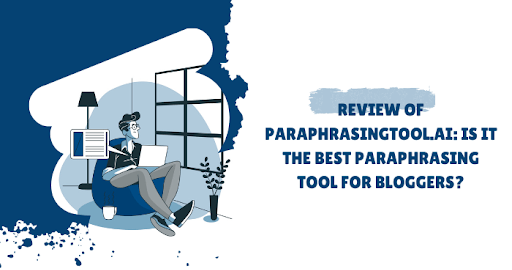 As a blogger, the quest for engaging content never ends, and the challenge to stay relevant with fresh content can be daunting.
Paraphrasingtool.ai is a power-packed rewriting tool that may just be the superhero you've been waiting for. This Paraphraser is an all-in-one content magician, capable of injecting new life into your old blog posts, effortlessly.
With a whopping eight paraphrasing modes and a plagiarism checker to ensure your content's originality, it's like having your content wizard on standby.
This review explores the strengths, quirks, and standout features of Paraphrasingtool.ai, diving deep into what makes it a game-changer for bloggers.
From its user-friendly interface to its impressive capabilities, we'll decode why it stands tall amongst its competitors.
Sit tight, bloggers – your content creation journey is about to get a lot smoother!
What is Paraphrasingtool.ai?
Paraphrasingtool.ai is a cutting-edge online tool that utilizes advanced AI to paraphrase and reword your text.
From blog posts to academic writings, this tool takes your content and transforms it into a unique, fresh piece, all while preserving the original meaning.
It's a powerful companion for bloggers, writers, and content creators seeking to inject novelty and engagement into their work.

So, what is so special about this tool? Let's find out.
Paraphrasingtool.ai: A Blogger's Heaven?
Trust me when I say that Paraphrasingtoo.ai is the tool that every blogger dreams of.
Imagine a tool that not only breathes new life into your work but also refines it, and tailors it to your unique voice at the click of a button.
This section breakdowns all the features that you as a blogger can look for in a tool.
Eight Paraphrasing Mode
Paraphrasingtool.ai offers a wide array of paraphrasing styles to match any writing needs. You can use the 'Free Rewriter' for basic paraphrasing and 'Text Improver' to simplify and correct sentence structure
There is a 'Near Human' mode for human-like rewriting.
Premium options include 'Plagiarism Remover' for unique content, 'Creative' for fresh ideas, 'Academic' for research writing, 'Quill Text' for clear and concise language, and 'Sentence Rephraser' for thorough sentence-level paraphrasing.
For instance, you can use the 'Creative' mode to add a new twist to an old blog post.
Tone Adjustment
This tool allows bloggers to set the desired tone, including casual, professional, formal, or witty. The tones ensure that the writing matches the blog's overall voice.
You might choose a casual tone for a lifestyle blog post, while a professional tone could be perfect for a business article.
Plagiarism Checker
The tool comes packed with a built-in plagiarism checker. It is a necessary feature for bloggers to make sure the originality of the content. It checks for similar content on the web, helping in avoiding unintentional plagiarism.
Summary Generator
This tool is useful for bloggers who need to provide a quick synopsis of their long blog posts or summarise research.
It could also help in creating succinct meta-descriptions for SEO purposes.
AI Editor
The AI Editor can simplify, expand, add bullets, or include examples in the text. This feature helps bloggers quickly refine their content, making it reader-friendly and well-structured.
Web Browser for Research
A built-in web browser helps bloggers conduct research without switching between tabs, streamlining the writing process.
Paraphraser Character Limit
Supporting up to 20,000 characters, this tool is suitable for lengthy blog posts. This feature enables you to rephrase lengthy content with ease.
Editable Paraphrased Text
The option to modify any sentence in the paraphrased text provides you with more control over the content and its outcome.
Synonym Changing Feature
This enriches the text with versatile vocabulary, preventing repetitive language and making the blog more engaging for the reader. Click on any word to change it with its synonym.
Paraphrasing from Audio and Images
This innovative feature allows you to extract and paraphrase content from audio files or images, expanding the possibilities for content creation.
For example, you might use this feature to rephrase an interview or a podcast episode.
Rewrite in Any Language
The tool has almost every language that you can think of in its bucket. You can paraphrase in Spanish, French, German, Urdu, and Arabic. And these are just a few of them. It supports more than 30 languages.
Paraphrasingtool.ai: How to Use it For Blog Writing?
Here's a step-by-step guide for using Paraphrasingtool.ai to update an old blog post:
Select the Old Blog Post: Choose the blog post you wish to update. You might want to pick a post that is still relevant but needs refreshing to engage with your current audience.
Visit Paraphrasingtool.ai: Open your web browser and go to the Paraphrasingtool.ai website.
Paste the Text: On the website's main page, you'll find a text box. Paste your blog post content into this box.
Choose the Paraphrasing Mode: Select the appropriate paraphrasing mode based on your needs. If you're looking to inject some fresh ideas, the 'Creative' mode would be suitable. If you want to refine language clarity, the 'Quill Text' mode might be a good option.
Set the Tone: Use the tone adjustment feature to match the tone of your blog. You can choose between casual, professional, formal, or witty.
Begin Paraphrasing: Click the 'Paraphrase' button to start the process. The tool will take a few moments to rewrite your content.
Review and Edit the Output: Once paraphrasing is complete, carefully review the output. You can use the 'Sentence Rephraser' options for further refinement.
Choose any sentence that you think fits the best in the context of the blog. Make sure the updated blog post still accurately conveys the original meaning and aligns with your blog's style.
Check for Plagiarism: Use the built-in plagiarism checker to ensure the new content is unique.
You can see in the screenshot above that the updated text is completely free from plagiarism.
Use the Summary Generator: If needed, use the summary generator tool to create a new, concise summary for your updated post.
Finalize the Blog Post: After you've made all adjustments and are satisfied with the new version, copy the text from Paraphrasingtool.ai.
Update Your Blog: Go back to your blog platform, paste the new content into the old blog post, and update it.
Don't forget to adjust the post's date to reflect the update.
There you have it! An old blog post is now updated in a matter of a few minutes. That's how easy the Paraphrasingtool.ai has made it.
How Much Does Paraphrasingtool.ai Cost?
The premium subscription to Paraphrasingtool.ai opens up all its exceptional features and eight paraphrasing modes, along with a reassuring 48-hour refund policy.
A Free Plan is also available. It provides:
3 paraphrasing modes
An impressive limit of 20,000 characters per paraphrase
There's no cap on the number of paraphrases you can do
If you decide to go premium, it's only going to cost $7 per month.
On the other hand, the annual plan provides substantial savings, costing you just $60 for the entire year, which breaks down to a mere $5 each month.
Paraphrasingtool.ai Alternatives
As you explore the options for paraphrasing tools, several alternatives to Paraphrasingtool.ai might suit your needs. Here's a quick look at three of them:
AiArticleSpinner.co
AiarticleSpinner.co is an accessible paraphrasing tool with six rewriting modes, two of which are available for free. It is a handy tool for bloggers who wish to try it out before deciding to subscribe. However, compared to Paraphrasingtool.ai, it has fewer paraphrasing modes. At $10 per month, ArticleSpinner.co offers a budget-friendly option for bloggers looking for basic paraphrasing functionalities.
Wordtune
Wordtune can track phrases and discover new writing tones. Plus, it comes with a Chrome extension, making it easy to use while writing online. However, it has its drawbacks. It is limited to the English language. The free plan isn't as accurate as what you get with the Premium plan. With a monthly cost of $24.99 (or $9.99 when billed annually), Wordtune falls on the pricier end of the spectrum compared to Paraphrasingtool.ai.
Paraphrasingtool.ai Review: Wrap up!
Paraphrasingtool.ai truly shines as the go-to sidekick for bloggers. Its toolbox is bursting with features that are all designed to turn content creation from a chore into a breeze.
In a nutshell, Paraphrasingtool.ai stands tall against its competitors. It's a tool that takes your old blog posts, sprinkles some magic, and transforms them into fresh, captivating pieces.
If you're a blogger hunting for a content makeover, it's time to let Paraphrasingtool.ai take the wheel!
We are sorry that this post was not useful for you!
Let us improve this post!
Tell us how we can improve this post?