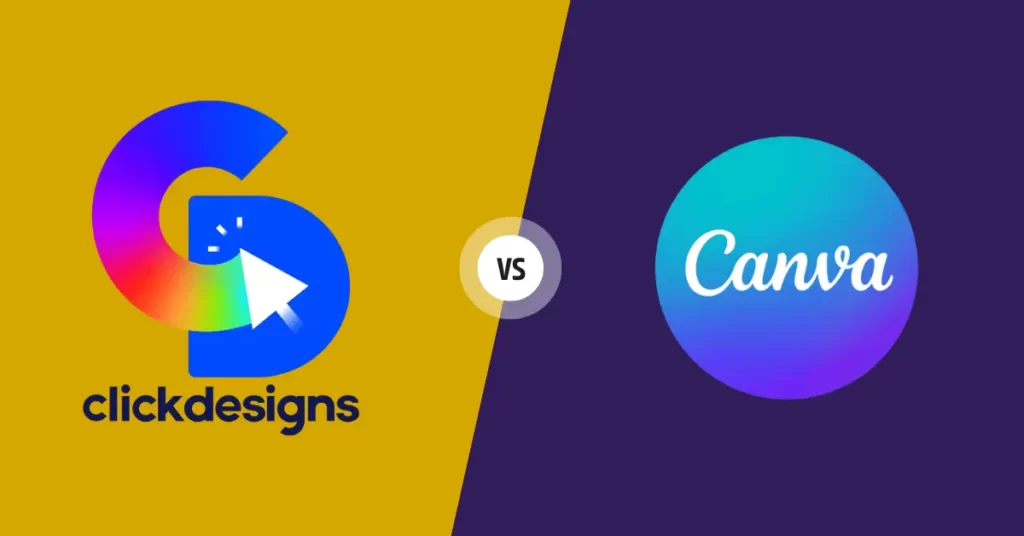 Not sure whether to go with ClickDesigns or Canva? I promise you'll have a MUCH better idea of making the right decision after reading this article.
ClickDesigns and Canva are both online graphic design tools that allow users to create professional-looking designs without the need for advanced design skills or software.
In this article, I am going to be explaining the main differences between ClickDesigns and Canva.
ClickDesigns and Canva are almost the same product but to help you pick the absolute right option for your photo editing or graphic designing need, I am going to compare ClickDesigns vs Canva in 5 main differences areas.
So let's dive into it.
RECOMMEDED ARTICLE: ClickDesigns Review 2023 ($20Off, Today): Full Guide
Are You In Hurry? Then Check Out Below!
ClickDesigns vs Canva: The Short Verdict
You might be in a hurry or might not have enough time to read this whole article. So, here we have summarized the whole article of ClickDesigns vs Canva.
Both ClickDesigns and Canva are excellent tools for producing designs that appear professional, but their target markets and feature sets differ. ClickDesigns could be a better option if you're a professional designer or a big organization seeking a robust and adaptable design tool. Canva could be a better alternative for you if you're a casual user or a small business seeking for a more economical and user-friendly option.
Special Offers For You!
BEST FOR EXPERTS
---
Get access to everything that's included in the Canva Pro plan, entirely free, for 30 days. Cancel anytime.
BEST FOR BEGINNERS
---
Get access to everything that's included in the Canva Pro plan, entirely free, for 30 days. Cancel anytime.
Price: ClickDesigns vs Canva
ClickDesigns does not have a free version but it offers a "One-time Pricing Plan – means pay once and use forever" and it also offers more advanced features and tools than Canva.
On the other hand, Canva offers a free plan as well as a paid plan which makes it more accessible to small businesses and casual users. But you'll need to pay recurring fee – means paying every month or year.
ClickDesigns is only $47 (One-time fee for life)
Canva Pro is $12.99/month when billed monthly.
That's right. ClickDesigns is actually cheaper than Canva because you don't have to keep paying to keep using ClickDesigns, and it also comes with more advanced features and tools.
Mockups: ClickDesigns vs Canva
Mockup is a crucial part of every product. It is a model of a design or device used after the completion of your product to show your audience how it would look like in real life.
Both ClickDesigns and Canva are powerful tools for creating mockups, but they have some key differences.
ClickDesigns is a professional design software that allows users to create detailed mockups for print and web projects. It has a number of pre-designed templates that can be used as a starting point for your mockups, saving time and effort. Additionally, it also has mockups bundle templates.
Canva, on the other hand, makes it easy for anyone to create professional-looking mockups but it does not provide mockups bundle templates. Canva also has a wide variety of pre-designed templates, including mockups for social media, flyers, and more.
Storage Limitations: ClickDesigns vs Canva
ClickDesigns is a paid service that provides you unlimited storage. When you use Canva, you only have limited storage but you can also upgrade to a paid version which will give you more storage.
In Canva, both services (Free & Paid) allow users to upload and store their own images and designs, but the amount of storage available will vary depending on the plan you have chosen.
In general, Canva's free version offers up to 1GB of storage for designs and assets, while the paid plans offer more storage space and additional features. On the other hand, ClickDesigns' paid plans offer unlimited storage space.
It's always recommended to check the pricing and storage limitation details before subscribing to any of the services.
Fonts and Graphic Elements: ClickDesigns vs Canva
When using ClickDesigns, you can choose from more than 160,000+ fonts. On the other hand, there are different types of fonts available on Canva.
But ClickDesigns has more options for working with typography and offers a greater degree of control over the overall design.
The image elements available are small on Canva while they are large on ClickDesigns. You can create large images or graphics on ClickDesigns while you cannot do so on Canva.
ClickDesigns and Canva have a wide variety of graphic elements to choose from, but ClickDesigns offers more advanced design tools and options for customizing elements, while Canva offers more pre-designed elements and templates that are easy to use.
Additionally, ClickDesigns has more advanced features for creating interactive designs and animations, which can be useful for creating dynamic digital advertisements, while Canva is geared more towards creating static designs for print and digital media.
Editing Capabilities & Features: ClickDesigns vs Canva
ClickDesigns and Canva offer a range of tools for editing visual content, but they have different features and capabilities.
Exclusive features only available on ClickDesigns, When using Canva, you cannot get some useful features.
With ClickDesigns, create any type of graphics inside of ClickDesigns in just a few clicks. In 1 click, add your favorite stunning graphic to your website, blog or sales funnel. In seconds, go live on the internet and start selling.
Canva is a great option for those who want an easy-to-use platform for creating graphics, while ClickDesigns is a more powerful tool for professional designers who need more advanced editing capabilities.
Final Thought: ClickDesigns vs Canva
As you can see, there are many reasons why ClickDesigns is better than Canva.
When comparing the two graphic design tools, ClickDesigns has many more features that Canva doesn't have.
Not only are there more features but the features are also better in terms of quality, ease of use, and functionality.
Both platforms have their own strengths and weaknesses, and the choice between them will depend on the user's specific needs and design skills.
If you are a professional designer or someone who creates images often, ClickDesigns is the better choice. If you are a beginner and not really good at graphic designs this is the perfect program for you to use.
We are sorry that this post was not useful for you!
Let us improve this post!
Tell us how we can improve this post?