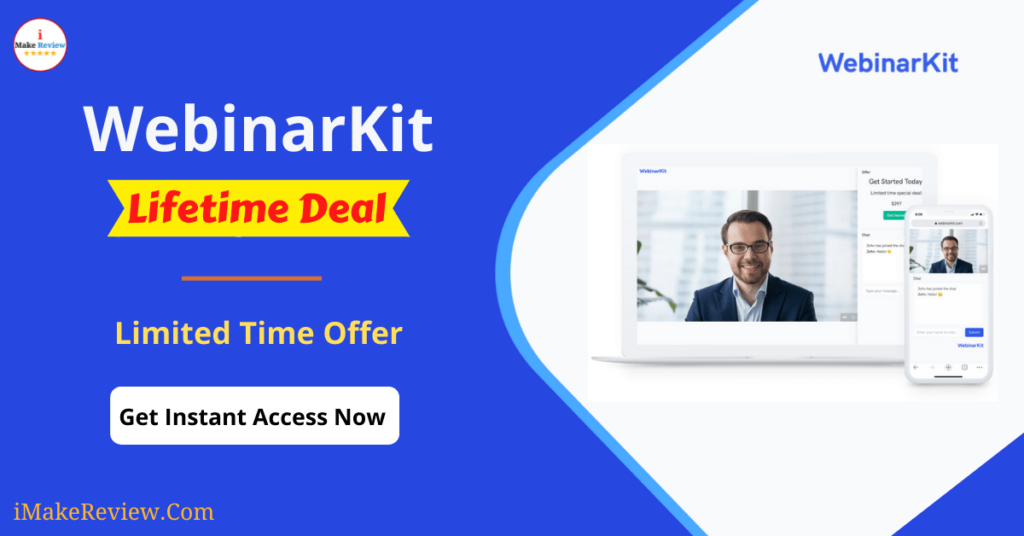 If you know WebinarKit then you must have heard about WebinarKit Lifetime Deal.
Well, WebinarKit Lifetime Deal helps you to save money that you pay every month, Pay once and use it for life – that's amazing!
After the many webinar tools I've tried, I've happily switched over to Webinarkit as the most modern, feature-rich, and lifetime solution out there and I haven't looked back since.
But are you know the WebinarKit lifetime deal ending soon?
YES, you heard RIGHT…
WebinarKit co-founder Stefan Ciancio announced the bad news in his WebinarKit community group in which he said that from 1st January 2023, you will no longer be able to buy WebinarKit Lifetime Deal.
Don't believe me? Let me show you a screenshot of his announcement.
When I saw this announcement I thought why not share it with you so that you can make a fast decision and don't regret that you missed out on a good automated webinar lifetime deal.
So if you're reading this before December 2022, that means you can still grab WebinarKit Lifetime Deal.
Now without delay the time let us know more about Webinarkit Lifetime Deal.
Why Is WebinarKit Lifetime Deal Ending?
WebinarKit is a server based tool and it has no own server that's why they purchase it from third-party companies on a subscription basis. Plus they pay monthly costs such as hosting, support, marketing, etc.
Simply put, in order to maintain any software the business must have Monthly Recurring Revenue (MRR) so that they can pay all their monthly bills (like server, employee, marketing, etc.) and keep the software running for you.
The goal of a lifetime deal is to get initial funding to develop the software, add more features and then charge recurring fees for every new customer.
WebinarKit has been already running the lifetime deal for the past 2 years and they've acquired a lot of customers and funding.
Now I hope you understand why the owners of WebinarKit are ending the webinarkit lifetime deal.
So if you need webinar tool to grow your business then this is the right time for you → Get webinarkit lifetime deal and enjoy forever. Many others have switched and are enjoying the awesome ease of use and lower costs.
How to Activate WebinarKit Lifetime Deal
Step 1. Click on this link to activate WebinarKit Lifetime Deal.

Step 2. On the deal page, Click on "Get instant access now" button. It will move you on the pricing section.

Step 3. Again click "Get instant access now" button and fill your contact information - first name, last name, email and phone no. then select your payment method (Credit card and Paypal are two payment methods available to pay)

Step 4. After selecting the payment method you need to enter credit card or paypal details (which you are selected). In my case, I select paypal to pay.

Step 5. Don't forget to enter coupon code "WEB15OFF" for additional $15 discount (Limited time only)

Step 6. Finally, click on the "Complete order" button to get Webinarkit lifetime deal at maximum discounted price.
Congratulations! You have saved additional $15 price and successfully availed the best webinar tool for lifetime access!
If you are not sure whether you should grab WebinarKit lifetime deal or not. Stay tuned with me I will help you.
What is WebinarKit?
WebinarKit is the webinar software that allows you to run automated and live webinars. With WebinarKit, you can run just in time, daily, weekly, and monthly automated webinars that will keep on running until you stop them.
However, WebinarKit Live allows you to conduct LIVE webinars with built-in high converting templates and sales tools.
Work less and earn more, and save your voice in the process 🙂
Currently, you have a chance to get a WebinarKit lifetime deal and built an unlimited automated or webinar series for a one-time lifetime access…for a very limited time!
WebinarKit Lifetime Deal Pricing Details
WebinarKit lifetime deal costs a One-time fee of $67 (for WebinarKit) & $97 (for WebinarKit PRO). This may vary slightly as they run different campaigns and offer discount coupons).
On the top of it, WebinarKit has a few other upsells (upgrades/add-ons) which open the door to some other features that might be useful for your business, but it's 100% optional.
Currently, WebinarKit has 4 Upsells including WebinarKit Live.
WebinarKit Pro
WebinarKit Chat Simulator
WebinarKit Agency
WebinarKit Live
Is it necessary to grab WebinarKit Pro?
No, but YES, because WebinarKit pro provides you some additional features and add-ons that you can benefit from and save some extra money too.
You can upgrade to webinarkit pro only if you have a WebinarKit lifetime deal.
WebinarKit Pro allows you to host webinar files on WebinarKit's server, so there is no need for you to use third-party video hosting services like Vimeo Pro, Wistia, etc.
Why WebinarKit Agency?
If your plan is to webinar agency then the WebinarKit agency will help you to setup it. You will also get the Webinar agency accelerator course with a $3.5M agency expert that is worth $10,000.
Agency license has two different plans, the first allows you to create up to 25 sub-accounts and the second allows you to create 50 sub-accounts. (Sub-accounts will have similar functions like the main account)
You can get more details about WebinarKit OTOs/Upsells/Add-ons.
WARNING: WebinarKit Lifetime Deal is ending on 31st December 2022 forever, Ensure you grab it before moving on to the monthly subscription.
WebinarKit Core Features Update
WebinarKit has many powerful features that I have never seen before in any other webinar software.
I'll explain some of the main features that WebinarKit offers. If you want to know the full features of WebinarKit, you can read my WebinarKit review.
Some main features of WebinarKit are given below:
Lightweight, Fast Full Webinar Funnel Builder
WebinarKit pages load extremely fast no matter what browser or device you are using.
Create beautiful, high converting registration and thank you pages for your webinars in just seconds. Customize text and background colors, headlines, descriptions, timers, logos, and more to craft the perfect, high converting landing page.
Unlimited Webinars, Registrants & Attendees
WebinarKit lets you create unlimited webinars and webinar funnels, and have unlimited registrations and attendees.
Other platforms limit how many webinar events, registrations, and attendees you can have. But with WebinarKit, you never have to worry about reaching any limits.
Live Chat Anytime During Webinars
Live chat lets you interact with your webinar attendees as if it were a fully live webinar. Your attendees can watch your prerecorded webinar video while directly communicating with you and others via a live chat box.
With real-time live chat, you can supercharge your webinar engagement like never before.
Browser Based, Pixel-Perfect HD Quality
Deliver pixel perfect presentations with high definition audio and video. Regardless of what you're presenting, WebinarKit will make sure it looks amazing.
All major browsers including Chrome, Firefox, Safari, etc are supported regardless of operating system. No clunky plugin or app installation required. WebinarKit is optimized to look amazing on all devices including desktop, tablet, and mobile.
Run Webinars Anytime & Anywhere
Run automated, evergreen, like-live, just-in-time, and instant watch webinars on a powerful yet easy to use webinar platform. Select your country's time zone and set up the webinar.
Automating your business and sales with webinars has never been so easy. But now you can run your webinars instantly, daily, weekly, or monthly.
WebinarKit Integrations
WebinarKit has integrations and built-in support with all of your favorite CRMs and major autoresponders such as:
ActiveCampaign
Aweber
Constant Contact
ConvertKit
Drip
GetResponse
Kartra
Keap
MailChimp
MailerLite
SendFox
Sendinblue
Sendlane
And many others.
And with the brand new Zapier integration, you can literally connect to thousands of other applications in just a few seconds.
WebinarKit Live: Is it Different from WebinarKit?
YES, WebinarKit Live is different from WebinarKit, but both are webinar software. The only difference is automated and live.
WebinarKit Live allows you to conduct LIVE webinars like ZOOM or GoToMeeting and it charges subscription fees on a monthly/yearly basis.
WebinarKit allows you to host automated webinars that will keep on running until you stop them. WebinarKit doesn't charge a monthly/yearly fee, Pay once and use it forever.
WebinarKit Vs WebinarJam – Main Difference
I have compared both webinar tools from different angles and does not find major differences in WebinarKit Vs WebinarJam, but some difference I have found…
WebinarJam is a quite expensive webinar tool and it has no monthly payment option, you need to pay $948/year with 500 attendees.
However, WebinarKit is an affordable tool, and keep in mind → the WebinarKit lifetime deal will end on 31st December 2022.
With WebinarJam you can host live webinars whereas WebinarKit allows you to host automated webinars that can run anytime. This is the main difference between WebinarKit vs WebinarJam.
WebinarJam is suitable for conducting live webinars. On the other hand, WebinarKit is ideal for running automated webinars.
WebinarKit Reviews – Should You Buy Or Not?
WebinarKit is an authentic and genuine product with cutting-edge features. Many industry experts have tested WebinarKit and no one blamed it.
I have written an in-depth WebinarKit review where I have explained everything about WebinarKit. You can read my honest WebinarKit Review!
Here are some industry experts giving their own opinion about WebinarKit.
After reading my WebinarKit review if you don't want to buy WebinarKit then you must check out my WebinarKit Alternatives. I have worked very hard to find the perfect alternatives for you.
WebinarKit Resources
To know indepth about any product you need product resources that's why I have put together all the useful WebinarKit resources that will help you to get started quickly. You can find them below:
WebinarKit Login:
Click here to login the WebinarKit Dashboard.
WebinarKit Helpdesk:
Got stuck while setting up your first webinar? Go through WebinarKit support articles or contact WebinarKit support team. Visit the WebinarKit support center here.
WebinarKit Roadmap:
WebinarKit has two roadmaps:
WebinarKit.
WebinarKit Live
See WebinarKit roadmap here.
Summary – WebinarKit Lifetime Deal
So guys my job ends here and now it's your turn to make the right decision about WebinarKit Lifetime Deal.
Remember, WebinarKit Lifetime Deal is ending on 31st December 2022. Grab WebinarKit Lifetime Deal before it expires.
This is awesome, you can Get WebinarKit lifetime deal for a one-time price and stop paying hundreds or thousands a year in recurring fees for your autowebinar/like live webinar solution.
However I'm using WebinarKit and I've seen what's inside WebinarKit, so I know you're going to love it. Trust me, WebinarKit is an affordable webinar software that will get the job done.
Still not sure about WebinarKit lifetime deal? You can read my honest WebinarKit review.
And finally, thank you for reading my WebinarKit lifetime deal. I hope you will choose this winning product and never become a failure. Should you have any doubts, drop your queries right away in the comments section below, and I'll answer.
We are sorry that this post was not useful for you!
Let us improve this post!
Tell us how we can improve this post?